"Erm, Bzzz... Bug detected. Please tell devs they messed up."
Article Incomplete.
This article is either incomplete or needs improvement.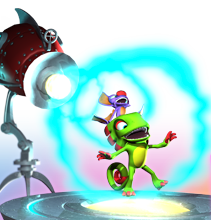 The D.N.Ray is a machine invented by Dr. Puzz that can transmogrify various creatures and objects, including Yooka and Laylee. It is the only machine left behind after Dr. Quack stole Dr. Puzz's assets. As the D.N.Ray currently is the prototype stage, the D.N.Ray requires Mollycools to fully function.
The name, "D.N.Ray" is a portmanteau of the words "DNA" and "ray."
At one stage of development, the D.N.Ray was going to be a giant blender.
The D.N.Ray is the Yooka-Laylee counterpart of Wumba's Magic Pool from Banjo-Tooie.
Community content is available under
CC-BY-SA
unless otherwise noted.